by Nebula Haze
Cannabis buds can come in all shapes and sizes! Although variety is the spice of life, it can make it a little confusing to know when to harvest your buds based on how your plants look. But if you harvest when buds are ready you'll get the best yields and potency, so it's a good idea to try to harvest as the right time if you can!
We have a full harvest tutorial, but this article is mostly just a picture gallery 🙂
When buds first appear on your plant they look like little round puffs of hair. Each bud is made up of many white hairs ("pistils") that stick straight out.
Not Ready
Baby buds (budlets) look like a ball of white hairs. These buds have many weeks to go!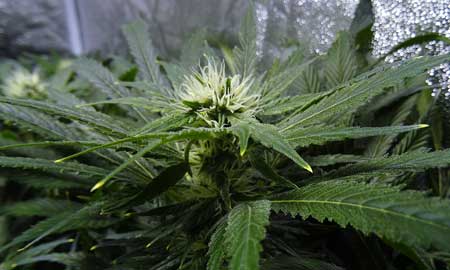 Still Not Ready
As the plant buds get closer to harvest, they thicken and those white pistils start to darken and curl in. You'll notice your buds are slowly getting thicker and more dense. However if you still have a lot of straight white pistils, like this bud, you know you still have a few weeks to go.
Ready to Harvest
You're in the harvest window when most of the pistils have darkened and curled in. This bud is now ready to harvest!