I still can't tell the difference between clear and cloudy trichomes!!!
It can be hard to tell the difference between clear and cloudy trichomes, especially if you don't see both types of trichomes at the same time! This is completely normal, and it takes a little experience before this part becomes totally easy.
However, when in doubt, consult with the pictures of buds above. If you combine both methods you'll get the best results! Although looking at your buds isn't the most precise way to know when to harvest, it does give you a really good idea. Try to take everything together. If your buds just have white pistils sticking out, you know for sure that it's no where close to ready, so you also know that the trichomes on the buds aren't all cloudy yet. It's only when your buds are getting close to looking harvest-ready that trichomes are going to have something to tell you!
The trichomes in this picture are still mostly clear, but that may be difficult to know immediately if you haven't really looked at trichomes before! However, I don't even really need to look at the trichomes in this picture to know these buds aren't ready yet. There are other signs it's not ready. I can clearly see several white pistils sticking straight out in the photo. The only two pistils that have darkened haven't even curled in yet.
Trichomes are mostly clear so this bud is not ready for harvest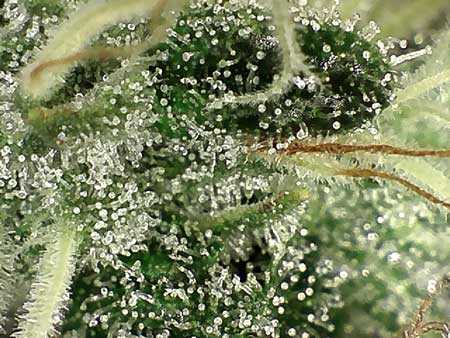 But even without looking the trichomes, the the fact that all the pistils are sticking straight out has already shown that this bud isn't ready. If there aren't any pistils curling in, it means you still have several weeks to go!
 When you're not sure, try to use a combination of looking at the buds and looking at the trichomes!
Many of the cannabinoids we enjoy most are produced within these glandular stalked trichomes. This includes THC, CBD, and CBN amongst others.
Learn everything you could possibly want to know about cannabinoid levels in your marijuana, and what you need to do as a grower to control the potency of the buds you grow.
Here are some general rules about harvesting marijuana based on trichomes and the color of the hairs / pistils. If you follow these rules, you'll know how to harvest weed perfectly every time!
If white "hairs" are almost all sticking straight out and trichomes are all still translucent (clear) then your plant is too young and not ready for harvest. Harvesting now will result in low yield and non-potent harvests.
The beginning of the harvest window opens when your plant has mostly stopped growing new white "hairs" or pistils and at least 40% of the white hairs have darkened and curled in.
Highest level of THC is when many/most of the trichomes have turned milky white / cloudy (when viewed under a magnifier). Trichomes that are milky have the highest levels of THC are "ready to harvest" and contribute to more euphoric and psychoactive effects. At this point 50-70% of the pistils have darkened.
Some Sativa & Haze strains have trichomes that never really turn amber. If they've turned mostly white and don't seem to be progressing further, it may be time to harvest!
The most "couchlock" or sedating effect happens towards the end of the pot harvest window, when the trichomes have become a darker color (usually amber/gold). The best results from amber trichomes come from indica strains. The amber/yellow trichomes contribute to a 'body high'. Some of the THC has converted into less psychoactive CBN, which has calming and anti-anxiety effects. With some strains, the trichomes will even turn red or purple! I like to harvest around when 20% have turned amber. At this point 70-90% of the pistils have darkened. Harvesting later will increase the sedating effects, but may also start reducing the psychoactive effects.
When trichomes start looking grey or withered, the harvest window has passed, and buds will make you sleepy without many psychoactive effects. Usually it takes several weeks (4 or more) from the beginning of the harvest window for this to happen. It's much easier to harvest too early than too late!
Want more of an 'in-your-head' effect? Harvest your buds earlier, when only 40% of hairs have darkened and curled in and more than half of the trichomes are part clear/ part milky or mostly cloudy/milky.
For the "strongest" marijuana buds with the most psychoactive effects, and the highest levels of THC, harvest when almost all trichomes are cloudy/milky.
For more relaxing, anti-anxiety buds, wait until at least some of the milky / cloudy trichomes have darkened to amber. More amber = more relaxing, though the effects may be somewhat less psychoactive. Remember, curing your buds properly for at least 2 weeks to a month will also give them more of an anti-anxiety effect.
When growing your own marijuana plants, you can certainly sample buds off your plant at different stages to get an idea for what your preferences are. It's okay to cut off pieces at a time!
The hardest part of growing cannabis for many new growers is waiting for the right time to harvest.
There is a strong tendency for new growers to harvest the plant early due to excitement.
Unfortunately, this often results in low yields and lower-potency buds.
If you are feeling excited about harvesting your marijuana plant, pull buds off the plant that look the most done and dry them and check the potency for yourself.
Harvesting the buds in stages (starting off slowly with small batches) can really help abate the excitement.
When in doubt, listen to your gut. Using both methods together will help you pick the best time to harvest, but only YOU know how you want your buds to turn out. This means that even the best methods are just general guidelines. But hopefully, you're now closer to getting your bud the way you want it.
Happy growing!
Sauce